Service Center

Service Center
Contact us for an appointment, and don't forget to ask about any ongoing specials that we are offering.
Hagerstown Honda
From oil changes to alignments, it seems like there's a lot to keep track of when it comes to car maintenance. But what you might not realize is that you need to have your car's components periodically checked for safety and performance.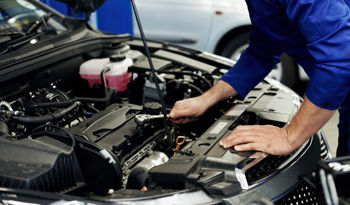 Customer Reviews


Serving
Hagerstown

,

Frederick

&

Cumberland, MD

If a part on your car breaks, you may be faced with a safety issue or be left stranded somewhere. On your own, you can keep track of your car's scheduled maintenance by looking at the owner's manual. Our expert mechanics can also keep you updated as to when you need an oil change, brake check, battery evaluation, and much more. Whenever you come in to us for service, you can expect to get professional care and plenty of personal attention, as customer satisfaction is our main priority.

Along with routine maintenance, you can stop in to our dealership for all your car repair needs, too. Maybe you've been in a fender-bender and need some parts replaced. Or maybe your battery has died after one more cold winter. We are happy to swap out seasonal tires and take care of more major repairs like engine and transmission issues, too. Once we determine what parts you need, we order and replace them as quickly as we can.
Service Center
Along with comprehensive maintenance and repair services, we also provide highly qualified mechanics to work on your car. Our mechanics undergo extensive training before they work on our customers' vehicles. This ensures fast and accurate service. Since they receive ongoing training, they stay updated about issues and recalls affecting various models. They also keep up with the latest tools for diagnostics and repairs, which helps you get in and out of the shop as quickly as possible.
This probably sounds great to you, but you don't think that your car qualifies for service because it's not a Honda. However, we are a community-minded dealership that welcomes all customers. For convenience, our skilled mechanics service all makes and models of cars. It doesn't matter if you're new in town or an old customer. We strive to make everyone satisfied, and unlike other repair places, you'll never be just a name and number here. We want you to return to us in the future for your car needs, and we also want you to stay as safe as possible on the road. Therefore, our detail -oriented mechanics give each car and customer they attention they deserve.
Of course, having great mechanics is a wonderful start. But when you spend all that time and money coming in for car repairs, you want to know that you're getting a good value. You don't have to worry about that here, as we only use the best available parts for your vehicle. If you need a mirror, battery, alternator, or any other component replaced, you can relax knowing that the replacement part that we use, which is called an original equipment manufacturer (OEM) component, will be just as good as the original part, if not better. OEM parts are built to a high standard, and they are also certified by an industry warranty. Your other option is aftermarket parts. These parts are often less expensive, but that comes at a cost. They tend to be inconsistent in quality and do not have a warranty, which can leave you with higher repair bills and more car work down the road!